July 22, 2014
Trade and goods movement on the table at South Delta discussion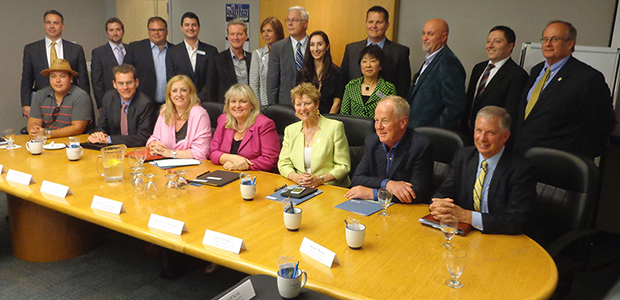 Trade and goods movement on the table at South Delta discussion
Some big movers and shakers got together Monday in Delta to discuss Asia-Pacific trade and the movement of goods through the area.
A roundtable took place at Boundary Bay Airport in the afternoon followed by an invite-only function in the evening.
The discussion, aimed at making it easier to enhance trade with Asia, featured Delta-Richmond East MP Kerry-Lynne Findlay, who organized the roundtable, and federal Transport Minister Lisa Raitt.
Also taking part were civic officials, including Mayor Lois Jackson, Tsawwassen First Nation Chief Bryce Williams as well as transportation and logistics representatives, airport and Port Metro Vancouver officials, and others.
They are all considered stakeholders in the growing transportation of goods to foreign markets.
The Fraser Basin Council was also on hand to talk about its recently released report on the need to come up with an integrated flood prevention strategy.
The discussion, covering a wide range of topics, comes as the port continues its push for a major expansion at Roberts Bank, including T2, a three-berth container terminal it hopes to be constructed in the next few years.
At the same time, the government is taking steps to improve Canada's Asia-Pacific transportation network. Ottawa says it has invested approximately $1.4 billion in infrastructure projects in partnership with all four western provinces, municipalities and the private sector for a total of approximately $3.5 billion in initiatives. Some of those projects include infrastructure work in South Delta.
Following the roundtable, Raitt, Findlay and Jackson spoke to the Optimist about the need to strengthen Canada's Asia-Pacific gateway.
"I have responsibility to the Asia-Pacific gateway in my portfolio and I always find it's best to hear from the players as to how things are going now, but, more importantly, what their vision for the future is. We had some great interaction," said Raitt.
Findlay said several at the meeting pointed to the need for a goods movement strategy developed in collaboration with all levels of government as well as industry and community groups.
"There was a lot of talk about the fact what an economic powerhouse the Fraser River and Asia Pacific gateway is and the need to be aware of that, but at the same time take community concerns into account," she said.
Some of the topics covered included the possibility of a 24-hour port, but for now that will be limited to extended nighttime gates that recently began at Port Metro Vancouver terminals, including Deltaport. Starting this month, gate hours have been extended to 1 a.m. five days a week. Meanwhile, a new daytime reservation fee is in place to encourage truckers to move containers at night.
Jackson said Delta is the major hub of the so-called gateway with the biggest container port in Canada and largest coal export facility on the west coast of North America.
"We're home to all this, so we want to work with all the players, whether it's rail, truck, whatever the case may be. All those advantages that will come to British Columbia and Canada, Delta is very much a part of that," she said. "We want to talk about some of the things that impact us like the trucking concerns we have. We want to talk about how we can best use all this infrastructure money to its very best bang for the buck."
Findlay agreed, saying it's important to make the most of existing infrastructure before putting money in new projects.
As far as new methods in the movement of goods, Delta council recently approved a request by Damco, a container trucking and warehouse operator that has a facility on River Road, to operate extra long "B-Train" truck and trailers to haul goods to Deltaport on a trial basis.
B-Trains are combination vehicles consisting of a tractor and two trailers, each with an approximate length of 12.2 metres and a total combination length of up to 31 metres.
(c) Delta Optimist